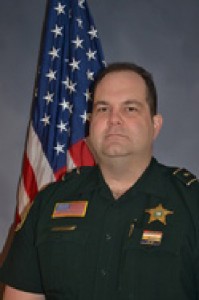 Lieutenant Daniel Picciolo is a career law enforcement officer with over 29 years of service. Prior to making a career move to PBSO, he served in the United States Marine Corps Reserves and began his law enforcement career in one of the largest city police agencies in Broward County. In Broward, he was selected for many special assignments including the Special Problems Unit.
He then furthered his career progression and started with the Palm Beach County Sheriff's Office in 1995. In the beginning of his PBSO career as a Deputy Sheriff, he worked in the Northern Part of Palm Beach County and then took on additional responsibilities such as a member in EFF (Emergency Field Forces), SWAT- Hostage Negotiation (Squad Leader/ Training Coordinator) and Agent in OCB/ Tactical Unit.
He then wanted to move into supervisory responsibilities and was promoted to the rank of Sergeant in 2005. He served the Southern Palm Beach County, and was later selected to participate on the City of Belle PD merger transition with PBSO in 2006. He then went to work at Palm Beach International Airport and took a focus on the homeland security aspect of his career. Working at the airport gave a global view of the importance of intra/inter communications w/ TSA, FBI, Secret Service etc. and the overview safety and security for citizens from all over the country.
He then was promoted to Lieutenant in 2012 and worked road patrol operations as a Watch Commander and then moved into an administrative role where he served as an Executive Officer for Western unincorporated Belle Glade, SouthBay and as the Commander of the City of Pahokee. He is proud to now be the Executive Officer for District 7- West Boca Raton.
Education:
Southern Police Institute – Administrative Officers Course and Police Executive Leadership Graduate Program
B.S. Organization Management
A.A. Psychology