Missing & Possibly Endangered Teen – Gianna Belmonte
PBSO
MEDIA ADVISORY
Palm Beach County Sheriff's Office is seeking the public's assistance with locating a Missing & Possibly Endangered Teen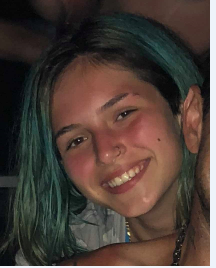 The Palm Beach County Sheriff's Office is looking for Gianna Belmonte. Gianna, DOB: 8/03/2006, was last seen on October 17, 2018, 4:00 pm, in the 4500 block of Oak Terrace Drive, Greenacres and has not been seen or heard from since.
Gianna, has brown hair with blue streaks.  She was last seen wearing blue jeans, black t-shirt, black Nike flip flops and is possibly carrying a black backpack.
Due to her age, detectives consider Gianna Belmonte to be a missing & possibly endangered teen.
Anyone with any information is urged to contact PBSO at 561-688-3400 or your closest law enforcement agency.
###