Update – Additional Info – Detectives are investigating a shooting that took place inside Publix in Royal Palm Beach
PBSO
Additional Information
What type of gun did the suspect use?  SPRINGFIELD XDM PISTOL 45 Caliber.
Who owned the gun?  Wall was not the original purchaser of the firearm.
In addition, the interaction between the suspect and grandmother may have caused the gun to malfunction causing the suspect to have to reload.  It is believed the grandmother may have helped prevent an even worse tragedy from occurring.
Facebook postings:  We are not releasing any Facebook postings at this time (case is open).
June 11, 2021
CHRONOLOGY OF EVENTS:
11:35:53     Received first 911 call
11:36:29     First unit dispatched
11:38:01     First Unit enroute
11:39:06     First Unit Arrived
Detectives arrived on scene at or around 1200 hours:
Interviewed in excess of 30 witnesses (including Publix employees) who either witnessed or heard the incident or were in the store during the incident.
Detectives reviewed video to determine movements and actions of victims and suspects:
11:07 AM             Victims enter store and begin shopping
11:29 AM             Suspect enter store using golf club putter as cane
11:30 AM             Victims enter produce department
11:31 AM             Suspect enter produce department
11:32 AM             Suspect appears to be watching victims from across produce
Section
11:34 AM             Suspect shoots child; female gets into a struggle with suspect; he shoves her to ground and shoot her
11:34 AM             Suspect shoots self
11:40 AM             Deputies arrive on scene
PBCFR arrives and subsequently pronounces victims/suspect dead
SUSPECT'S MOVEMENTS PRIOR TO INCIDENT:
The suspect entered WALGREENS at 8:07 am and made a purchase
The suspect entered PUBLIX at 9:02 and made a purchase
SUSPECTS VEHICLE:
Suspect vehicle (red scooter)
There are NO cameras that capture that area of the parking lot so sequence of events or any potential interactions between the victims and the suspect in the parking lot is unknown at this time
UPDATE*
Palm Beach County Sheriff's Office will conduct a News Conference today June 11, 2021 at 3:30pm.
It will be held at:
Oxbridge (Old Jewish Federation building)
4601 Community Drive
West Palm Beach
UPDATE*
The Violent Crimes Division has confirmed the identity of the suspect. This is a picture: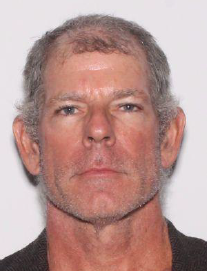 The suspect has been identified as Timothy J. Wall, DOB: 12/06/1965 of Loxahatchee.
NO additional information to add.
UPDATE *
The family has invoked Marsy's Law, therefore, the names of the victims: 1 year old boy and his grandmother will not be released.  The gunman's name will be released after his next of kin has been notified.
There is NO known motive or relationship between the gunman and the victims, however, detectives are still investigating.
** PUBLIX WILL BE CLOSED UNTIL SATURDAY **
ATTENTION PUBLIX CUSTOMERS!
ALL personal items left behind have been safely bagged.  TO COLLECT your personal items a PBSO deputy will be in front of PUBLIX, tomorrow, June 11, 2021, between 9:00 am and Noon. 
June 10, 2021
Time:           11:39 am
Location:     Publix, 1180 Royal Palm Beach Blvd., Royal Palm Beach
Deputies responded to a shooting inside Publix in the 1100 block of Royal Palm Beach Blvd, RPB.  Upon arrival deputies located three individuals deceased from gunshot wounds, one adult male, one adult female and one child.  The shooter is one of the deceased.
Detectives from the Violent Crimes Division is currently on scene investigating this shooting. THIS IS NOT AN ACTIVE SHOOTER SITUATION!  Detectives are in the beginning stages of determining what led up to the shooting.
More information will be released when it becomes available.