Greetings from District 9 of the Palm Beach County Sheriff's Office.
My name is Captain Ulrich Naujoks, and it is truly an honor to introduce myself as the Commander of District 9 – Village of Royal Palm Beach. I continue the tradition of past commanders as not only someone who works in Royal Palm Beach, but someone who is also proud to call it my hometown.
I began my Law Enforcement career at the Lake Worth Police Department in 1988.  In 1995, I was honored to join the rank and file at the Palm Beach County Sheriff's Office. Since that time, I have worked in many different areas such as Patrol, Special Investigations, Violent Crimes, and Internal Affairs. Throughout the years in these units, I have taken full advantage of the educational and career advancement opportunities afforded to me which have also allowed me to rise through the ranks from Road Patrol, Homicide Detective, Road Patrol Sergeant, Watch Commander, Executive Officer, and now Commander at District 9 – Your PBSO Substation!
I have earned my Associate of Science Degree in Criminal Justice from the State University of New York, along with a Bachelor's and Master's Degree in Public Administration from Barry University.
At District 9 we are committed to providing timely, professional law enforcement services to citizens, business owners and visitors to the Village of Royal Palm Beach. District 9 has implemented the philosophies and practices of community policing and is fully committed to problem solving at all levels through traditional and non-traditional strategies. We work in partnership with the community and our government stakeholders to address crime and quality of life issues in the Village. The safety of you, your family and friends is paramount to all members of the Sheriff's Office which is why it is important to keep the communication open between law enforcement and those we serve.
I look forward to meeting each of you in the years to come, and if you have questions or concerns you can always reach me. Have a safe day!
Captain Ulrich Naujoks
Commander
District 9
Community Resources & Links
Active Shooter Training Video
In light of the tragic events, we want to remind everyone what they can do during an Active Shooter situation.
Latest News in District 9: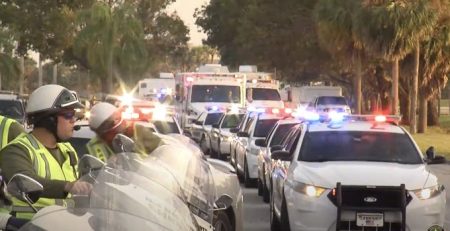 PBSO Deputies along with a fully contained team DEPLOYS…
read more