Friends,
My name is Rodney P. Thomas and I am the Commander of the Palm Beach County Sheriff's Office District 2 – Town of Mangonia Park. I am a lifetime resident of Palm Beach County, leaving only to serve my country in the U.S. Army.
As a product of this community, I am honored to serve you and I will do so to the best of my ability. My law enforcement career began as a reserve police officer with the City of Palm Beach Gardens in 1989. I joined the Mangonia Park Police Department in 1990 and was appointed Chief of Police of MPPD in 2003. I joined the Palm Beach County Sheriff's Office when the Police Department merged with PBSO on February 1, 2007.
My educational background includes an Associate in Science degree in Legal Assisting from Palm Beach Community (Palm Beach State) College, a Bachelor's Degree (Cum Laude) in Criminal Justice from Florida Atlantic University, a Master's Degree in Public Administration from Barry University and a Juris Doctor (Law) Degree from Nova Southeastern University.
The District 2 Substation is located at 1755 East Tiffany Drive, Mangonia Park. The staff of District 2 is committed to providing competent and professional law enforcement service to the community. The deputies are professional, well-trained, willing and able to help address your concerns. Our goal is not just to respond to the problem, but to evaluate and help address the root cause of the issue. Community Policing is not only a law enforcement concept, but a partnership that can and will grow stronger with time and positive interaction between stakeholders within that partnership. As stakeholders, we believe that everyone is important and we are dedicated to maintaining partnerships and programs which will enhance the quality of life here in our Town. We can only be successful with your support as a stakeholder. Whether you are a resident, business owner, or a visitor you can join the Sheriff's Office in our efforts by reporting crime or taking advantage of the crime prevention programs offered to you. There are many resources and programs to participate in as a resident of Mangonia Park.
Please take the time to browse our website and click on the various links in order to learn more about the Sheriff's Office. If you have any concerns that we may help you with, or would just like to drop in and say hello, my door is always open. I look forward to meeting you all in the years to come.
Respectfully,
Captain Rodney P. Thomas
Community Resources & Links
Latest News in District 2: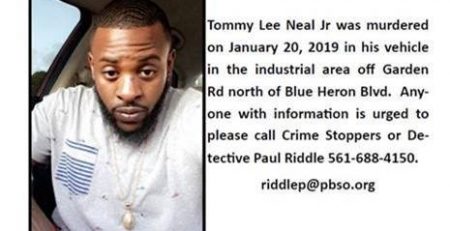 It's been three years since the homicide of Tommy…
read more