Missing Teen – Returned Home Safely
PBSO
MEDIA ADVISORY
– Returned Home Safely –
Palm Beach County Sheriff's Office was seeking the public's assistance with locating a Missing & Possibly Endangered Teen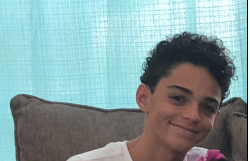 The Palm Beach County Sheriff's Office is looking for Gian'Marco Rodriguez. Gian'Marco, DOB: 5/26/2005, was last seen on July 30, 2018, 11:00 pm, at his home located in the 6800 block of Barnwell Drive, Boynton Beach and has not been or heard from since.
Gian'Marco is 5'04" and 100 lbs.  He has brown hair and brown eyes.  Clothing description is unknown.
Due to his age and mental state, detectives, consider Gian'Marco to be a missing & possibly endangered teen.
Anyone with any information is urged to contact PBSO at 561-688-3400 or your closest law enforcement agency.
###