Deputy rescues kitten from under a vehicle, family says "you are the best, I love cops"!
PBSO
On 5/1/15 at 5:40 pm a family in a mini-van was stopped at a red light on Main Street in Belle Glade while en-route to Tampa for a family reunion. While waiting for the light to turn green, a cat jumped onto the rear axle area of the vehicle. The driver heard the cat howling from underneath the van and would not move her vehicle from the roadway, fearing she would injure it. I looked underneath the van and determined the cat would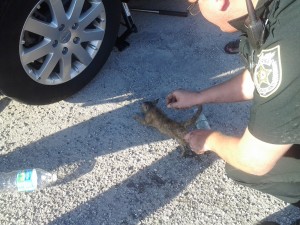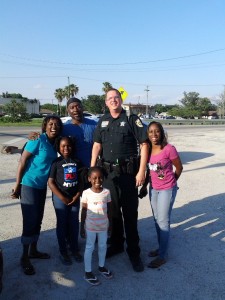 not be harmed if the vehicle was moved into a parking lot, and had the driver relocate there.
PBSO Deputy arrived to the scene. We jacked the van up to make the cat more accessible. The cat relocated itself to another location under the vehicle, making it more difficult to reach and rescue the cat. the Deputy crawled under the mini-van and worked relentlessly for approximately 15 minutes until he was able to free the trapped animal. He sustained an animal bite, but was more concerned for the animal's welfare than being bitten.
The family was so pleased and happy with the Deputy steadfast determination to rescue this imperiled animal. The driver said " you are the best, I love cops"!
From my point of view, the Deputy did an outstanding job! With everything going on with the national and local media, it was great to hear a citizen give us a nice complement. She assured us she was going to write a commendation letter to the Sheriff for the Deputy's successful effort.