Update Arrest – Stabbing/Homicide at Speedway Gas Station
PBSO
Update:
Further investigation led detectives to the identity of the suspect wanted in the stabbing/homicide.  Yunior "Cuba" Gil Verdecia, H/M, DOB 10/15/1986 was identified, located, interviewed, and charged with Premeditated First Degree Murder with A Deadly Weapon.
On Tuesday, November 8, 2022, Verdecia was booked into the Palm Beach County Jail.  He should be attending first appearance this morning, Wednesday, November 9, 2022.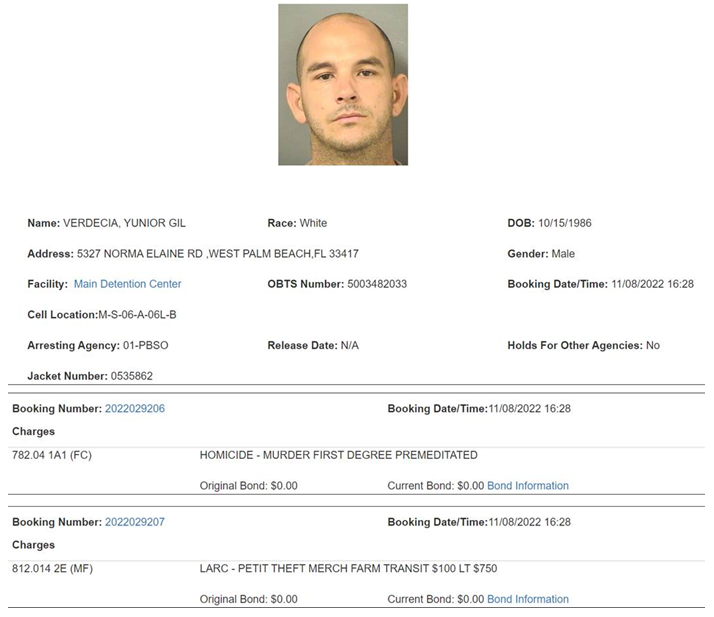 Nov 6, 2021
Detectives are seeking the public's assistance with identifying a PERSON of INTEREST in this Homicide in unincorporated West Palm Beach
Anyone who can identify this suspect is urged to contact Crime Stoppers at 1-800-458-TIPS or you can remain ANONYMOUS by downloading our new app "PBSO" for your Apple or Android Smart Phone and using the "See Something" feature. The app can also be downloaded from www.pbsoapp.com.
Date:           Saturday, November 5, 2022
Time:           3:58 pm
Location:    5000 block of Okeechobee Blvd, WPB
Deputies responded to the Good Samaritan Emergency Center located in the 5000 block of Okeechobee Blvd in reference to a stabbing. Upon arrival, deputies learned that an adult male suffering from stab wounds was transported to St. Mary's Medical Center where he succumbed to his injuries upon arrival.  Further investigation determined that the adult male and an unknown white/Hispanic male were involved in an altercation at the Speedway Gas Station, (across the street) located at 5019 Okeechobee Blvd, resulting in the victim being stabbed.
Detectives from the Violent Crimes Division arrived on scene to investigate this stabbing as a homicide.
Anyone with information about this altercation/stabbing is urged to contact Crime Stoppers at 1-800-458-TIPS.