Welcome to the PBSO District 4 website. I am honored to serve as the Commander for the District. My assigned staff and I are dedicated to working together with the community to maintain a safe community environment. We intend to provide the highest level of professional law enforcement service with an emphasis on problem solving. We actively work to keep our community safe through preventive uniform patrol, proactive criminal and traffic enforcement, and thorough investigative efforts. We also work closely with PBSO specialty units, local police departments, state, and federal partners to both prevent and solve problems.
District 4 is located at 14925 Cumberland Dr. in Delray Beach. For patrol purposes, the District is divided into seven sectors encompassing a geographical area of approximately 38 square miles. The north and south boundaries extend from Clint Moore Road to the L-30 Canal, south of (Flavor Pict Rd). The east and west boundaries run from South Congress Avenue to the Loxahatchee National Wildlife Refuge. For additional public convenience, District 4 has a satellite office located inside the Delray Marketplace at 14851 Lyons Rd. #106, Delray Beach.
One of the most critical components to our success is our relationship with our community. We value community feedback and encourage community participation through the PBSO volunteer program and homeowner association meetings. We are very grateful for the assistance of the members of our Citizens on Patrol (COP) program. We are also extremely thankful for our community partners throughout District 4, which include but are not limited to the Alliance of Delray and the many HOA's within our district. Please contact us with any questions or issues, as we want to work together with you to resolve any problems and help maintain a high quality of life for the members of our community. Our contact information, the addresses of our offices and other useful information can be found on our website.
Sincerely,
Captain Richard DiBerardino
Commanding Officer,
District 4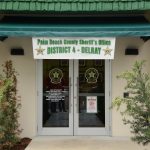 Community Resources & Links
Driver's Links & Resources