The mission of the Palm Beach County Sheriff's Office Technical Services Division is to provide the highest level of quality in forensic services, administrative support and professional practice to the citizens of Palm Beach County, local, state, and federal law enforcement agencies, and to the criminal justice system at large. The Technical Services Division is bound by the highest standards of ethical conduct.
All Technical Services Units assist law enforcement agencies and the criminal justice system within Palm Beach County and when called upon by other jurisdictions. Mission critical activities include, but are not limited to the following: the analysis and processing of items of forensic interest in the discipline of fingerprint examinations; providing assistance in crime scene investigations and photography; providing expert witness testimony; evaluating new technologies; and participating in recognized training programs for all disciplines. The management of the Technical Services Division is committed to maintaining a quality management system that is continually striving to improve its effectiveness.
Sincerely,
Kenneth Morrow
Division Manager, Technical Services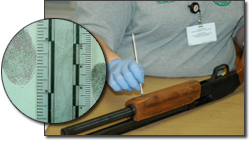 The Crime Scene Unit is a support unit within the Palm Beach County Sheriff's Office that responds to major crime scenes to preserve, document and collect evidence that will be presented in court. Investigators also provide in-house latent print and DNA collection of evidence submitted by deputies. Crime Scene Investigators are often called upon to testify to their findings in court proceedings.
The Unit supports local law enforcement and five jurisdictions throughout the Palm Beach County area. In some instances, the Unit supports other law enforcement agencies in close surrounding counties as well as the F.B.I., Florida Highway Patrol, D.E.A., U.S. Customs, A.T.F, US Secret Service, and The State Fire Marshals Office.
Crime Scene Investigators encounter many different types of evidence
Evidence
The Evidence Unit is comprised of four primary areas:
Firearms
The Firearms Unit of the Crime Lab is a part of the PBSO Technical Services Division.  Forensic Firearm Identification is the branch of forensic science that deals with firearms, ammunition, and related evidence.  Evidence collected by the law enforcement agencies of Palm Beach County and submitted to the Firearms Unit may include handguns, long guns, magazines, fired cartridge cases, bullets, bullet fragments, shot shells, shot wads/cups and pellets.  Primary areas of analysis provided by this unit include firearm function testing, microscopic comparison, distance determination testing, and serial number restoration.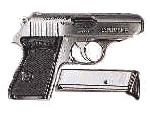 Function testing
Function testing of pistols, revolvers, shotguns and rifles includes an examination of the firearm for safety and operability, test firing, and entry into the National Ballistics Identification Network (NIBIN) database, which assists in linking unsolved shooting cases and providing investigative leads.
Microscopic comparison
Microscopic comparison is used to determine whether a fired bullet or cartridge case was fired by a particular firearm. Firearm Identification is a comparative science, comparing known samples to unknown or questioned items. When a firearm is discharged, certain characteristics can be scratched or impressed onto the bullet and cartridge case from the force of the explosion. The unique pattern imparted to the bullet and cartridge case is sometimes referred to as the "fingerprint" or "signature" of the firearm. During a casework examination, a suspected firearm will be test fired and the known samples from that gun will be microscopically compared to evidence bullets and/or cartridge cases from a crime scene, looking for the reproduction of that pattern of individual characteristics.
Muzzle-to-target distance testing
Muzzle-to-target distance testing is the examination of clothing for firearm discharge residues (gunpowder, lead, copper, etc.) using specific chemical tests, then determining an estimated distance the victim was from the firearm.
Serial number restoration
Serial number restoration of an obliterated or defaced serial number is sometimes possible through the practiced application of chemical etchants, magnetic forces or heating techniques.
The Firearms Unit provides testimony and education in all these areas of expertise, as well as contributing to other gun-crime investigation methods of the PBSO, such as trajectory analysis and the ATF eTrace system.
Forensic Identification
The Forensic Identification Unit is comprised of three subunits: Latent Prints, Identification, and Fingerprint Services. Identification has Fingerprint Examiners on duty 24 hours a day/7days a week. The Examiners classify, search, and identity fingerprints of persons arrested, using the most current technological methods as well as traditional examination procedures. The fingerprints are searched through the AFIS (Automated Fingerprint Identification System) which searches both the county and state databases. The Identification Unit also provides services to the Medical Examiners Office and receives evidence from crime scenes processed for latent fingerprints.
Latent Prints is responsible for evaluating and comparing all physical evidence submitted from crime scenes processed for fingerprints. Latent Examiners also provide expert testimony in court as to their findings and conclusions as well as assistance to other agencies when requested. Unidentified latent fingerprints are searched through the AFIS system in order to help investigators solve cases in which no suspect was initially identified. In 2005 the AFIS system was enhanced to not only search and store fingerprints but also to accept palm prints left at crime scenes. Palm Beach County implemented its first AFIS system in 1989 and since that time over 6,000 latent prints have been identified.
Fingerprint Services operates out of four separate locations throughout the county. Three of these sites offer fingerprinting services to the general public for employment, gun permits, state licenses, etc. The other site is dedicated to handling all criminal registrations as well as sex offender/predator re-registrations with the Florida Department of Law Enforcement.
Photography
The Palm Beach County Sheriff's Office Photo Lab provides comprehensive photography services to the Palm Beach County Sheriff's Office, Fire Rescue, State Attorney's Office, Public Defender's Office, local and federal law enforcement agencies, outside attorneys and the general public.
The dedicated staff processes color photographic film and all types of digital media.  They also assist with photo line ups, training of new hires and Domestic Violence (DART) training, print crime scene photos for court purposes, photograph and print all special events and assist with the domestic website.  All photographic evidence, be it film or digital media that is turned into the Photo Lab is housed in a secure evidence storage room.
The Photo Lab staff is committed to providing the public and law enforcement agencies with timely and professional response to all photographic requests.
Indentity Theft
The Palm Beach County Sheriff's Office has provided a link below to an informative website maintained by the Florida Department of Law Enforcement. You will find answers to many questions on the subject of Identity Theft (Compromised Identity). If a stranger, former friend, or relative has given your good name to authorities during an arrest in FLORIDA, you can use this information to report this identity theft to appropriate authorities. You may be informed by a prospective employer while in a job application process, their arrest history checks have indicated an arrestee using your name has criminal charges that disqualify you for employment.
If this happens to you, use the information provided on this website. You will find an FDLE Compromised Identity Form. We have included this form on our website for your convenience. You must follow all instructiions on the form, including the recording of your fingerprints on this form. The PBSO currently provides three convenient locations throughout Palm Beach County that offer fingerprinting services to the public. You can take completed form to any of our locations for fingerprinting. You can find locations, hours of operation under Fingerprinting Services.
Background Checks
PBSO receives many questions in reference to the applicant fingerprinting process as it relates to pre-employment background checks. Some background checks are required by law, other employers choose to use fingerprints to determine applicant eligibility. This attachment contains information employers must use to submit applicant fingerprints to FDLE, and receive fingerprint search results of any disqualifying arrest history. PBSO provides three sites offering "electronic fingerprint submissions". This service can only be used by those that qualify.You will find specific information on electronic and traditional hard card submission of applicant fingerprints. Regardless, PBSO can record applicants' fingerprints.