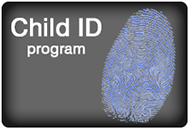 Maintaining an updated Child Safety Identification is a simple, easy, and effective way for parents to have a record of their child's crucial information needed by authorities in case of an emergency.  The Palm Beach County Sheriff's Office is pleased to offer this valuable service, FREE of charge, to children from 18 months to 14 years of age.
If your group or organization is interested in arranging for a FREE Safety ID program at your location we request that you provide the following:
Indoor location
Tables for the equipment and chairs for the personnel
Power
2-3 weeks' notice prior to event
For more information contact our Crime Prevention Unit at 561-688-4853.