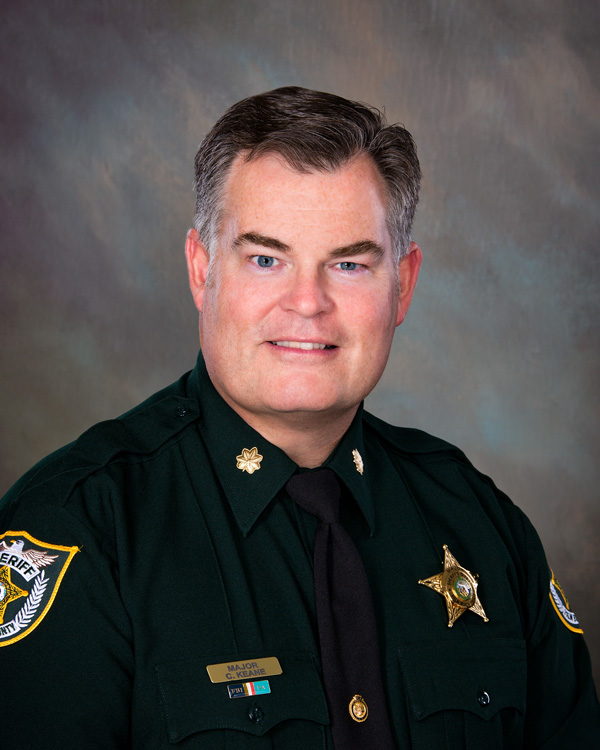 Meet Major Christopher Keane
Major Chris Keane
began his career with the Palm Beach County Sheriff's Office in 1994 and currently holds the rank of Major. His previous assignments within PBSO are diverse and include: Field Training Officer, Emergency Field Force Team, Organized Crime Bureau Detective, Hostage Negotiator, Patrol Sergeant, Detective Sergeant, Watch Commander, Administrative Lieutenant, Detective Lieutenant and District Commander.
Major Keane currently oversees the South Regional Bureau which includes: District 4 – West Delray Beach, District 6 – West Boynton Beach, District 7 – West Boca Raton, District 14 – City of Lake Worth Beach and District 19 – Town of South Palm Beach. The South Regional Bureau consists of 365 dedicated men and woman committed to providing professional law enforcement services to our residents and guests.
Major Keane has served on several committees within Palm Beach County, including the Child Abuse Protocol Committee, FBI – Minor Vice Task Force, Palm Beach County Sexual Assault Response Team and the Criminal Justice Commission – Community Engagement Task Force. Major Keane is President of PBSO Broken Star; a charity organization that provides financial assistance to support employees experiencing unforeseen emergency situations. Major Keane earned a Master's Degree from the University of Alabama and has attended numerous advanced leadership courses, including the FBI Law Enforcement Executive Development Association and the FBI National Academy – Session 268. Major Keane is married with two teenage children.